Observation towers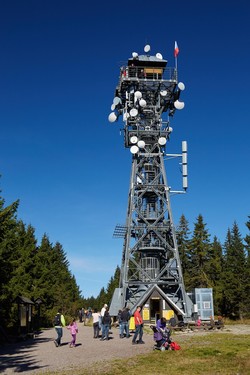 Observation tower Černá hora
Observation tower Panorama - is original pillar of cable car in distance 100 m from top station of current cable car, in direction to ski lift Anděl. Observation platform is in the height 21 m, where you can enjoy beautiful round view to the countryside and to Giant Mountains. Panorama camera is placed in construction of observation tower. Panorama camera informs about weather conditions, state of downhill slopes, cross country routes and the other actualities each morning from 8.00 a.m. in programme ČT2 /Czech television/.
Operation time:
During summer holidays: daily from 10.15 a.m. to 4.00 p.m.
Besides summer holidays: Monday - Friday 12:00 a.m. to 4.00 p.m.; Saturday and Sunday 10.00 a.m. to 4.00 p.m.
(Group orders out of operation time: 732 323 324, 777 336 492)
Observation tower Hnědý vrch, near the upper station of the Hnědý vrch chairlift
The highest observation tower in Giant Mts. is observation tower Hnědý vrch in Pec pod Sněžkou. You can find it close to the top station of chairlift Hnědý vrch. The foot of the tower is located at an altitude of 1 207 m. above sea level. The main viewing platform is 27 meters higher. The whole height of the tower is 30,85 metres. The observation tower you can visit for free.
Views of the highest Czech mountains: Luční hora, Studniční hora, Sněžka, Světlá and Černá hora. In good weather conditions you can see Orlické hory and Jeseníky too.
Operation time:
June - October daily 9.00–16.00 hod., in operation time of chairlift Hnědý vrch.