Scooters

Experience, beautiful vistas and plenty of fun. We have 60 km of scooter trails running through the Giant Mts. ready for you. You can use one of three summer cable cars/chairlifts to reach the top and go downhill on a CRUSSIS scooter.
Pricelist
Scooter (2 hours)
Scooter (5 hours)
Scooter (2 hours) + 1x cable car Černohorský
Express
Scooter (2 hours) + 1x chairlift Portášky
Adult
300 / 270***
450
560 / 490***
490 / 420***
Junior
300 / 270***
450
500 / 430***
440 / 380***
Child
300 / 270***
450
450 / 390***
410 / 350***
*** applies to online purchases
For rent a scooter is necessary to submit a valid ID card. Helmet is included
The last loan is possible 1 hour before the end of the rental opening hours.
Prices in CZK including VAT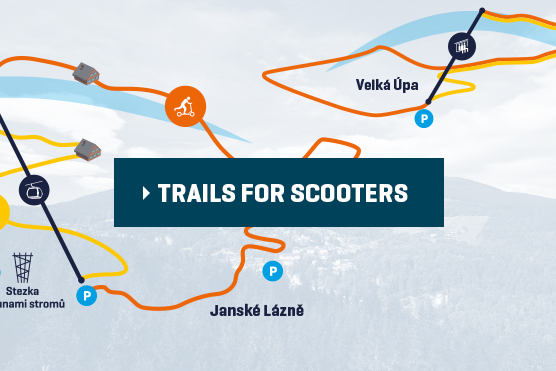 5 SkiResort Live rentals
Janské Lázně
Černá hora
Velká Úpa
Pec pod Sněžkou
---
Crussis active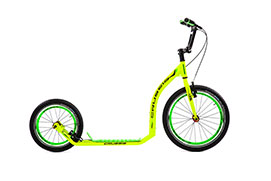 is the smallest model of scooters we rent. Active is suitable for beginners. It is equipped with brakes TEKTRO V-brake with integrated bell and 20" front and 16" rear wheels. The original handlebars were swapped for straight ones to make it more comfortable for younger riders.
For children over six years of age
Weight 9 kg
Modified handlebars for children
Suitable for body height 100 - 155 cm (3'3 - 5'1)
Recommended for paved roads
---
Crussis urban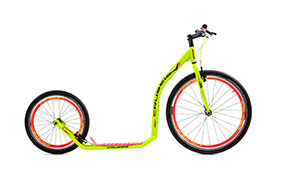 A scooter ideal for hobby riders and fans of scooter riding. Urban scooters are ideal for longer trips on paved roads, cycling lanes and easy terrain. Patented solution of the frame stiffness transforms the energy of the push into forward action. Short wheelbase guarantees excellent riding characteristics and perfect maneuverability of the scooter. The scooter is equipped with TEKTRO V-brakes with integrated bell, 26" front and 20" rear wheels.
Weight 10 kg
Suitable for body height 140 - 190 cm
For children over six years of age
Suitable for all surfaces
---
Crussis cross 6.2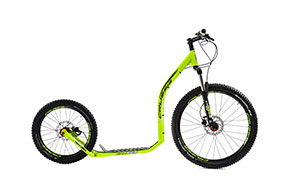 A model fit for the mountains. Thanks to sufficient clear height of the footboard perfectly suitable for mountain terrain. Cross is equipped with hydraulic disc brakes TEKTRO with excellent braking efficiency. Fork ZOOM VAXA R-LO can be locked from the handlebars. The scooter has 26" front and a 20" rear wheels.
For children over six years of age
Hydraulic brakes
Suspension fork
Wide footboard
Weight12 kg
Suitable for body height 150-195 cm.
---
---