E-bikes

Discover the most beautiful locations in the Giant Mts. without breaking a sweat. New and powerful e-bikes will take you to places which would be out of reach with regular mountain bikes. Electric motor helps with pedalling and even a 70 km long trip shouldn't be a problem. To overcome the biggest elevation differences we recommended taking one of our cable cars/chairlifts to increase battery life of your bike.
Pricelist
Terms and conditions of rental: Valid identity document + returnable deposit 5000 CZK (Hardtail) and 10 000 CZK (Full Suspension)
*** valid when purchased online
Ebike PASS: Non-transferable 1-day ticket for one ride on each of the three summer lifts of the SkiResort. Please check the operating hours of the cable cars before purchasing.
Prices in CZK incl. VAT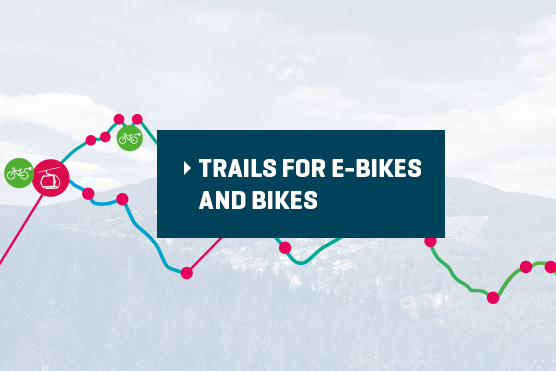 Rental of e-bikes - SkiResort Live
Janské Lázně, building of bottom station of cable car Černohorský Express
May: 6. - 8.5., od 12.5. daily (9:00 - 17:00)
June: daily (9:00 - 17:00)
July, August: daily (9:00 - 18:00)
September, October: daily (9:00 - 17:00)
contact: +420 734 153 153; live@skiresort.cz
The following e-bikes are on offer in SkiResort Live rental:
We rent also kids' e-bikes.
---