Portášky
Chairlift – Velká Úpa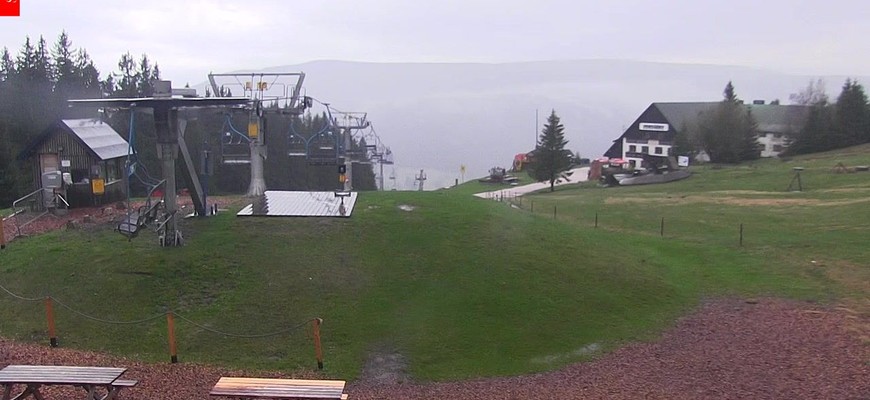 SkiResort ČERNÁ HORA - PEC (Velká Úpa) | Chairlift PORTÁŠKY is in operation in terms: 19. - 22.4., 1. - 5.5., 8. - 12. 5. 18. - 19.5., 25. - 26.5., 1.6. - 29.9. (9:00 - 18:30) Herní krajina Pecka - is open from May in terms when chairlift Portášky is in operation
Timetable – summer 2019
Rides
9.00
9.30
10.00
10.30
11.00
11.30
12.00
12.30
13.00
13.30
14.00
14.30
15.00
15.30
16.00
16.30
17.00
17.30
18.00
18.30
Schedule of chairlift:
April: 19. - 22. 4.
May: 1. - 5. 5.; 8. - 12. 5.; 18. - 19. 5.; 25. - 26. 5.
June: daily
July, August, September: daily till 29. 9.
October: 5. - 6. 10., 12. - 13. 10., 19. - 20. 10., 26. - 28. 10.
November: out of operation
The provider of the cable car service reserves the right to close down the service in case of a malfunction, strong wind, power outage etc. without compensation.
Portášky (VELKÁ ÚPA – PORTÁŠKY) – price list 2019
adult
junior/ senior
child
small child, dog
family 2+1
family 2+2
family 2+3
school group
Up
150 CZK
130 CZK
110 CZK
0 CZK
390 CZK
450 CZK
510 CZK
90 CZK
Down
80 CZK
70 CZK
60 CZK
0 CZK
×
×
×
×
Return
200 CZK
170 CZK
140 CZK
0 CZK
520 CZK
600 CZK
680 CZK
120 CZK
TourPAS* 1-3 days
450CZK/ 400CZK
380CZK/ 340CZK
270CZK/ 240CZK

0

CZK

×

×

×

×

TourPAS* 4 days
490CZK/ 440CZK
420CZK/ 370CZK
300CZK/ 270CZK

0

CZK

×

×

×

×

TourPAS* 5 days
520CZK/ 460CZK
440CZK/ 390CZK
310CZK/ 270CZK

0

CZK

×

×

×

×

TourPAS* 6 days
550CZK/ 490CZK
470CZK/ 420CZK
330CZK/ 290CZK

0

CZK

×

×

×

×

TourPAS* 7 days
580CZK/ 520CZK
490CZK/ 440CZK
350CZK/ 310CZK

0

CZK

×

×

×

×
Online price - Valid when purchasing TourPAS online via SkiResort Card
*TourPAS - a summer 'ski pass' of the resort – enjoy cable cars and chairlifts without limitations. More informations here. Get TourPAS with 50% - 100% discount with booking of accomodation via SkiResort.
AGE CATEGORIES
SMALL CHILD – to 5.99 years
CHILD – from 6 to 11.99 years
JUNIOR – from 12 to 17.99 years
ADULT – from 18 to 62.99 years
SENIOR – over 63 years
OPERATION TERMS
You can pay in Euro, or by card Eurocard / Mastercard a Maestro, VISA, VISA Electron too. We do not accept any vouchers or other employees benefits.
Each person must have a valid ticket according to the price list (except children up to 5.99 years) for transportation.
Tickets are valid on the day of sale.
For fare Child, Junior and Senior, it is necessary to prove age by an identity card and the presence of the person for whom the fare is required.
Family packages FAMILY 2+1/2+2/2+3 are applicable not only for one's own children.
Transport of bikes, mountain scooters and buggies is free for persons with a valid ticket.
Transportation of dogs in cable car Černohorský Express and also on chairlifts Hnědy vrch, Portášky is free of charge. On a chairlift transportation of dogs is possible on the passenger's lap only. The passenger is responsible for his own safety and and the safety of carried animals. The dog must wear a muzzle during the duration of transport.
In case of a complaint it is necessary to submit the cash receipt.
DISCOUNTS ON TICKETS
For organized school groups over 10 persons including an accompanying person a discount is offered when presenting a list of persons stamped by the school (or a sports club), see the price list. Download the form. Total amount has to be paid cash / credit card by 1 Person on the spot. Lift cards need to be picked up by 1 Person. You can pay in cash or by credit card at the place of purchase. It is necessary to pay the whole amount. Tickets must be collected by the same person.
One free ticket is available for travel agency guides when purchasing tickets for groups over 25 persons.
Holders of a valid card "KARTA HOSTA Pec pod Sněžkou" will receive a 10 % discount on TourPAS, cable car Černohorský Express and chairlifts Hnědý vrch and Portášky. The discount is applicable on a single ride up and return ticket for adults, juniors, seniors, and children. The discount can be credited at the cable car/chairlift ticket offices.
Discounts cannot be combined.
SEASON TICKETS AND Czech Skipass (bought in SkiResort ČERNÁ HORA – PEC)
Unlimited use of cable cars and chairlifts ČERNOHORSKÝ EXPRESS, HNĚDÝ VRCH and PORTÁŠKY throughout the whole summer season. Season tickets of the SkiResort ČERNÁ HORA - PEC are not valid for cable car Sněžka, nor for TourBUS.
---