Circuit around Pec pod Sněžkou via observation tower Hnědý vrch
Circuit around Pec pod Sněžkou via observation tower Hnědý vrch
Difficulty:
Distance: 7.5 km
---
Take the chairlift from Pec pod Sněžkou lanovkou z Pece pod Sněžkou to Hnědý vrch, visit the 30.8 m tall observation tower on Hnědý vrch. Then continue along the gravel path to the asphalt road where you can access the red trail.
...via Liščí hora
Take the asphalt road, then the red trail to ascend to Liščí hora where you can enjoy beautiful vistas of Sněžka. Continue further on the red trail to Chalupa Na Rozcestí until you reach Výrovka. Return to Pec pod Sněžkou via the green trail.
Route: 12 km, 3 hours (MAPA TRASY 1 - map no.1)
...via Lesní bouda and Vlčí jámy
Descend the asphalt road, at the crossroads take the left turn and follow the yellow trail, which leads straight to Pec pod Sněžkou. Approximately 300 m into the trail you can switch to a forest path along Vlčí jámy - a unique glacial corrie. A marked trail leads to Pec pod Sněžkou.

Route: 7.5 km, 2 hours (MAPA TRASY 2 - map no.2)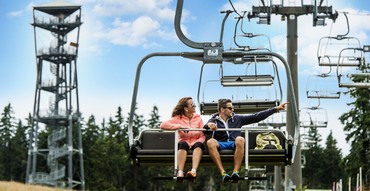 Mapa trasy 1
Mapa trasy 2
More tips for trips