Holiday with children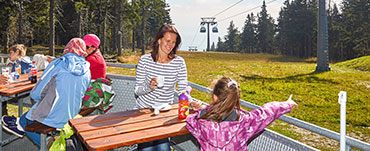 Eastern Giant Mts. are suitable not only for experienced hikers. High-altitude trips can be enjoyed by anyone even with a pram. All you need is the right selection. Go up to Černá hora by a barrier-free cable car with a pram, bicycle or a scooter and for the return trip choose a comfortable asphalt road going through the picturesque countryside. A path leading from Černá hora to Pec pod Sněžkou can take you to Černá hora moorland. The trip is suitable for families with children.  
SkiResort ČERNÁ HORA - PEC - is not just about trips. You can raise your adrenalin in rope parks, go on a fairytale path, visit a museum or ride a pony.
Visit the ZOO in Dvůr Králové, swimming pool in Trutnově, or a bobsled track in Pec pod Sněžkou. 
SkiResort ČERNÁ HORA - PEC - an ideal place for your active summer holiday.  
---
TourPAS - summer "skipass"

Enjoy an active summer holiday full of trips, adrenalin, experiences and relaxation while saving your money with TourPAS. It is a combined ticket for 1 cable car and 2 chairlifts  (Černohorský Express, Hnědý vrch, Portášky) without limitation. 
TourPAS - Enjoy mountains to the fullest 
Cable car, chairlifts without limitations in one ticket...