What is SkiResort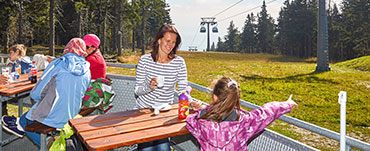 SkiResort ČERNÁ HORA – PEC is an ideal place for an active family summer holiday. How about taking a ride in the only 8-seater cable car in the Czech Republic ČERNOHORSKÝ EXPRESS going from Janské Lázně to Černá hora or chairlifts HNĚDÝ VRCH in Pec pod Sněžkou and PORTÁŠKY in Velká Úpa.  
Černá hora – an ideal starting point for high-altitude hikes, cycle tours, mountain scooter rides and family trips even with a pram. In Janské Lázně visit the pub Hospůdka na Formánkách with a playground and minigolf.
In Pec pod Sněžkou you can enjoy beautiful views from the highest observation tower in the Giant Mts. 
From Velká Úpa you can make a trip for example to Sněžka. Using chairlift Portášky you can easily overcome the biggest elevation difference. The rest of the trip follows the track of the ancient mountain carriers.
Come and see SkiResort ČERNÁ HORA - PEC also in winter. It is the largest ski resort in the Czech Republic offering 41 km of pistes with one ski pass. You can ski in five different areas of Eastern Giant Mts. - Černá hora (Janské Lázně), Pec pod Sněžkou, Černý Důl, Velká Úpa and Svoboda nad Úpou.  
---
TourPAS - a combined discounted pass
Enjoy an active summer holiday full of trips, adrenalin, experiences and relaxation while saving your money with TourPAS.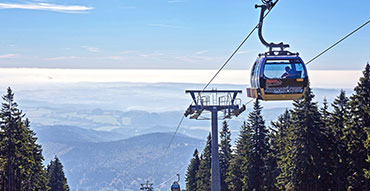 TourBUS
When taking a trip in Eastern Giant Mts. use a convenient tour bus line TourBUS between Janské Lázně and Pec pod Sněžkou. You can discover new routes leading straight back to your car via TourBUS. TourPAS holders can use the bus for free.
Relaxation in Omnia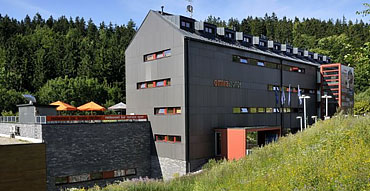 A part of SkiResort ČERNÁ HORA - PEC is also SkiResort Omnia Hotel  - the only 4-star hotel in Janské Lázně. The hotel is situated next to the central parking lot, in close proximity to the bottom station of the cable car to Černá hora. The hotel is perfectly equipped for both family holidays and business events. Accommodation includes free entrance to the pool, sauna, tennis hall, free parking space and an unlimited ticket for cable car ČERNOHORSKÝ EXPRESS. Four-day accommodation grants you a free TourPAS, six-day accommodation grants a free TourPAS+.
More information at www.omniahotel.cz